Beyond ADHD
When I was growing up, my brother was called "hyper" and "lazy" because he had a hard time staying focused and being still when the teacher wanted him to be quiet. Later when one of our boys showed similar traits and started giving the teachers a hard time (by being busy, talking, unable to sit still); we were told he had ADHD. He was diagnosed with less than a 10 minute conversation with our family physician.
We were surprised that there were no tests ran on him. They didn't check for other conditions that could have been in play. This just didn't sit well with us so we made an appointment with a specialist.
In the end, our son did have some attention deficit issues but we were able to address most of them with treatments or habits that didn't involve just drugging him. He was taught to make schedules and to create habits so that he could get through routine things without any struggles. He was taught different study habits and patterns so he could get through school and later go on for his Master's in Accounting.
When I was asked to be on the blog tour for this book, I was glad to see that the author also considered that perhaps the label of ADHD might be application a little too soon and without proper medical evaluation. Also included is a lot of personal background and experiences that the reader can really relate.
Here is more information on the book and the author:
Non-fiction – Mental Health
Date Published:
August 16, 2017
Publisher: Rowman & Littlefield
Beyond ADHD weaves Emmerson's personal story of his ADHD diagnosis, exploring along the way the latest medical, scientific and societal explanations and tools for managing and living with the condition. Including interviews with a number of experts at the forefront of next-generation ADHD diagnostics and treatment, he questions the cookie-cutter way ADHD is commonly diagnosed and treated. Suggesting that the list of symptoms often used to identify ADHD can be attributed to many other disorders and conditions, he explores how and why ADHD diagnoses have increased by 50% in the last ten years. Emmerson advocates a different approach to ADHD, arguing that it should be a diagnosis of exclusion rather than the other way around, and that we must look past the label, recognizing that individual symptoms vary and treatment plans should be better tailored to the individual. He examines mental and behavioral issues from all sides, including the possibility that nurturing – rather than trying to alter or suppress – the active, "360-degree" mind is a viable way for those diagnosed with ADHD to realize their gifts and lead purposeful lives.
AUTHOR BIO: Jeff Emmerson
From the depths of mental despair to one of social media's premier spokespeople for mental health issues, Jeff Emmerson is a veritable "Rocky" in the field. Jeff has written for and been interviewed by some of the world's top online magazines regarding Attention Deficit Hyperactivity Disorder (ADHD), including Everyday Health (featured on AOL Health) and Additudemag. He also enjoys one of the world's largest social media followings for a non-medical professional on the subject, with more than half a million Twitter followers and a video blog (YouTube Channel) that includes more than 200 different postings on various aspects of ADHD. Many of the top medical experts in the field, as well as specialists in behavioral therapy, vision therapy and neuroscience, regularly post and correspond with him as part of their collective goal: finding a path beyond today's ADHD "epidemic". Some share their perspectives in Beyond ADHD.
Born and raised in Ontario, Canada, Emmerson began speaking publicly to raise awareness of ADHD and mental health issues in 2011, following a suicide attempt and resulting ADHD diagnosis. (Three years earlier, he had lost his brother Ryan to suicide). In 2013, after another bout of suicidal ideation, he focused more greatly on his higher purpose, took to social media channels and began blogging to reach an even larger audience. He also took out an old manuscript he had written about his life, which further developed into Beyond ADHD.
Emmerson is a passionate advocate for mental health, and fostering a deeper understanding beyond the accepted symptoms that have led to more than 30 million North Americans taking ADHD medication. He seeks to come up with solutions that return society to a place of compassion, humanity, community and empathy. This perspective forms the structure of Beyond ADHD.
Emmerson will be embarking on a public speaking and signing tour in Fall 2017 to draw greater awareness to the diagnostic and societal issues of ADHD, to create greater public discourse in North America and worldwide, and to roll out the many forward-thinking solutions that he and many of the world's foremost experts on behavioral, mental health and neurological issues and conditions have been discussing and beginning to utilize.
Jeff and his wife, Aimee, Founder & CEO of a globally recognized digital marketing firm, make their home in Ontario, Canada. He was a star youth hockey player in Canada for many years, and later, worked as a security guard and in various positions.
His website can be found at www.JeffEmmerson.com.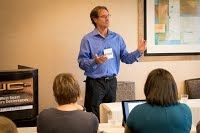 ABOUT CO-AUTHOR ROBERT YEHLING
Co-Author and Independent Publisher Book Award winner Robert Yehling is the author of 12 books and the co-author or ghostwriter of eight others. Beyond ADHD is his second co-authored book in the mental health field, following on the heels of Just Add Water (Houghton Mifflin Harcourt), the biography of autistic surfing star Clay Marzo, which was a finalist for the 2015 Dolly Gray Literature Award. His new novel, Voices (Open Books Press) is one of the most anticipated music-themed novels of 2017. Other titles include The Champion's Way and When We Were The Boys. Celebrating 40 years as a professional journalist and author in 2017, Yehling is also a five-time Boston marathoner and the head cross country coach at Carlsbad (CA) High School, his alma mater.