Meet a Friend Friday 3.08.13
I am so pleased to be able to introduce you to another great fellow blogger from Pinkoddy's Blog!   Please welcome Pinkoddy to Simply Sherryl!  She's answered my questions, but if you are curious about more, leave your questions below and I'm sure she'll come by and answer them too!

1. Tell us a little bit about your blog:
My blog is just about the things that pop into my head – that is a SAHM Mother of 4 boys, 2 with special needs. That may be what I've crafted with the kids, where we've been, something I've heard on the news, a product I want to share, just general family life.
2. How long have you been blogging and what do you love about it?
I've been blogging around 18 months and what I love most is the supportive community spirit.
3. Tell us a little about the person or group behind the blog?
I have a degree in Psychology but have never practiced in the workforce because my oldest son was diagnosed with Asperger's Syndrome and so I've always made it so that I could be around for him. I even worked at McDonalds because they were really good at being flexible with their hours. I've had a lot of "life events" happen to me, which I don't really blog about but briefly mention in case anyone wishes to talk to me privately to help them.
4. What hobbies/interests do you have?
I love recycling and crafting with the kids. I love music and dancing.
5. What is your favorite topic to write about?
I never have just one topic and just write whatever comes to my mind. My favorite posts are ones that get people talking or those that help people.
6. What advice would you give to new bloggers?
Don't worry, be yourself. If in doubt just ask – other bloggers can be so kind and thoughtful, if they don't know the answer they might know someone else who does. Also know your worth.
7. Do you use a blogging planner and if so, which one? Why?
No, but it does sound a good idea as I'm spending more and more time with blogging – but it was meant to be an occasional thing when I got time.
8. Three of my favorite blogs to visit are:
Mammasaurus      ||     Coombemill      ||     Redtedart 
9. Three of my favorite posts on my blog are:
Trying to do the Best for your child – claiming DLA
Elephant Craft from a Toilet Roll Holder 
10. Are you planning on attending any of the Blogging Conferences this year? If so, which ones?
I'm going to the Tots100 in Birmingham and Britmums in June – Sponsored by Mooncup (thank you very much)
Anything else you would like for the readers to know about you or your blog?
I've recently moved to self-hosting and a lot of my pages/posts didn't move across as I'd like. What this means is you can't obviously see a lot of the content so have a good look back, or use the search box. I'm working on sorting it out, but also trying to get a Statement of Special Education Needs for my son, oh and we bought a house cheap as it needs a lot of work!
I do a Linky on a Monday called Motivational Monday – this is for any tips or anything you find motivating about in any and every subject. Thank you very much for taking the time to find out about me and my blog.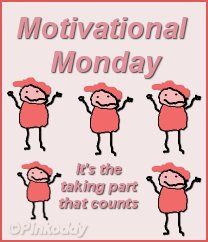 Now that you know a little more about Pinkoddy, don't forget to check out her social media presence… you can find her on Facebook  ||   Twitter  ||  Pinterest
And if you would like to recommend a blogger to be featured on Simply Sherryl, just submit their information on our Guest Form.