Review: CollageIt Pro Software
This is really a neat program. Makes creating a collage simple. Now you can customize your desktop or make a one of a kind gift for someone special. I have had a blast playing with the program. I created a college of the life of one of my girls as a gift. From infant to teen – seems like only a heartbeat. 
Simple To Use: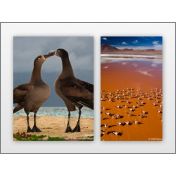 Step 1: Add Your Pictures
When you launch the CollageIt you will be prompted to select the layout you would like to use. Once selected, you will select the pictures you would like to use in your creation.
To add the pictures, simply click the Add button and a window will open to your stored pictures on your computer. You can select the folder if you need to change the path. Once you have selected the pictures, you can either arrange them in the order you would like them used or click the Random Layout button to generate the your collage layout.
Step 2: Select Your Settings
On the Settings Tab you have the option to change the collage size. Background Tab helps you select the background color of your choice. There are a large number of options and settings available to change the layout of collage. Adjust the photo spacing, margin, rotate a picture, and change the layout order to create your special creation.
Step 3: Preview Your Creation:
Before you click save, try clicking the  Random Layout button to generate different layouts of the collage. Keep selecting it until you get just the visual you are looking to create.
It is easy to crop a picture if needed or to swap one out with another without having to change the rest of the layout.
Step 4: Save copy to file:
When you're happy with your collage, click Export button to save the custom photo collage as an image on your computer. You can also email, upload and share the photo.
I received one or more of the products mentioned above for free using Tomoson.com. Regardless, I only recommend products or services I use personally and believe will be good for my readers.